NIM-AMX500-3
Triple Analog Switch NIM-AMX500-3
Universal Digitally Controlled Triple Analog Switch/Multiplexer for Voltages up to 500 V
This product has been discontinued. Equivalent products from our current product range can be found here: Signal Switches
The module is equipped with three identical digitally-controlled, electronic analog switches. The function of each switch corresponds to a conventional electromechanical relay. The switching times lie, however, in the nanosecond range and the digital control inputs have high impedance. Similarly to an electromechanical relay, the control inputs are galvanically insulated from the signal lines.
Typical Applications:
Drivers of electromagnetic and piezoelectric valves
Modulation of electron and ion sources, of electron and ion guides
Motor drivers
Technical Data
Characteristics
Three independent, digital controlled, galvanically insulated electronic analog switches
Control Input (Socket In)
TTL compatible, optionally 5V-CMOS compatible
Input impedance: 47 kOhm (pull-up resistor)
Switch
Switchable voltage: max. 500 V
Continuous current: max. 0.35 A, peak current: max. 10 A
Switch resistance: 10..15 Ohm
Upon request: switches for different voltages and currents
Dynamic Parameters (Socket Com)
Rising and falling edge: < 50 ns, 20 ns typ.
Time delay between the control and the output signal: 200-600 ns
Jitter (short-time stability): < 10 ns
Power Supply
230V / 50 Hz via a line cord, optionally via the NIM system connector (required terminals: +12V and 110V~)
General
Case: NIM plug-in unit 1/12
Weight: 1.2 kg
Equivalent Circuit of Each Channel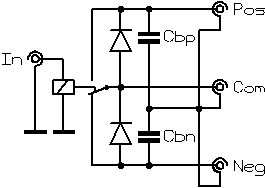 Download
User Manual
Older versions
Information on how to open the various file formats can be found here.