ISA-C32T12
ISA-C32T12
200 MHz 32-bit Counter, 20 MHz 15-bit Timer for the ISA Bus
This product has been discontinued. Equivalent products from our current product range can be found here: (Discontinued entirely, no successor product)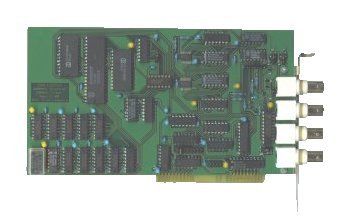 This measuring card contains two timers connected in series and a counter. The counter has a signal and a gate input. It counts pulses on the signal input while the gate input is actice. The gate input can be enabled or activated by the computer.

A measurement can be made once (one pulse on the gate input) or repeatedly (every pulse on the gate input). The counter can be reset at any time, or several measurement sequences can be added up, in which case the interim results can be queried at any time as well.

The counters consist of two identical independent channels. Each channel can be triggerd by its trigger input or by the control software. The presence of a predefined signal edge on the trigger input triggers an output pulse with a programmable duration. The pulse starts and ends in sync with the clock signal, which guarantees a high reproducability even for the longest pulses.

The pulse duration and its stability are determined by an internal quartz oscillator. Both channels are internally coupled in order to generate pulses which are time-shifted with respect to the trigger signal. The trigger input of the first and the output of the second channel are connected to the BNC sockets of the measuring card. The polarity of the output signal can be switched. Additionally, the output of the second channel can be internally connected to the gate input of the counter.
#Technical Data
PC Interface
PC bus system: ISA
E/A adresses: 2 adresses beginning at 200h, 210h, 220h, 230h, 300h, 310h, 320h, or 330h
IRQ line: not required
Software drivers: for Windows 95/98/ME and for Windows NT/2000/XP
Counter
One 200 MHz 32-bit counter
Pulse width on the inputs: > 2 ns
Permissible slope on the inputs: < 5 ns/V
Polarity of the signal input: positive or negative (computer-controllable)
Gate input: active at log. 1, and/or computer-controllable
Measuring sequence: single or repeated measurements
Counter length: 32 bit (i.e. a maximum of 232-1 = 4,294,967,295 pulses per measurement)
Overflow: Signalized starting from the 231 = 2,147,483,648-th pulse
Timers
Two 20 MHz 15-bit timers
Adjustable pulse duration on the output: 400 ns – 1600 s (at a clock frequency of 10 MHz)
Time resolution: 15 bit (12 bit mantissa + 3 bit exponent)
Trigger: hardware / software
Active signal edge: rising / falling (computer-controllable)
Permissible slope on the trigger input: < 100 ns/V
Output signal: positive or negative pulses
Pulse width on the trigger input: > 15 ns
Clock frequency: < 20 MHz
General
Connectors: 50 Ω BNC sockets
Input and output level: TTL / 5V CMOS
Input impedance: 47 kΩ + switchable 50 Ω pull-up resistors
Maximum output current: 100 mA
Dimensions (PCB without sockets, plugs and PC card holders): ca. 115 × 200 mm2
Weight: ca. 210 g
#Download
User Manual
Software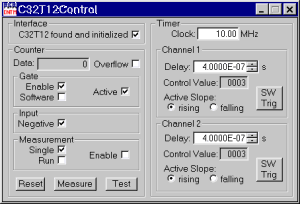 Information on how to open the various file formats can be found here.