RFG300-DLU
RF Generators RFG300-DLU
Digitally Controlled Radio Frequency Generators for Quadrupole Mass Analyzers, 300 W Maximum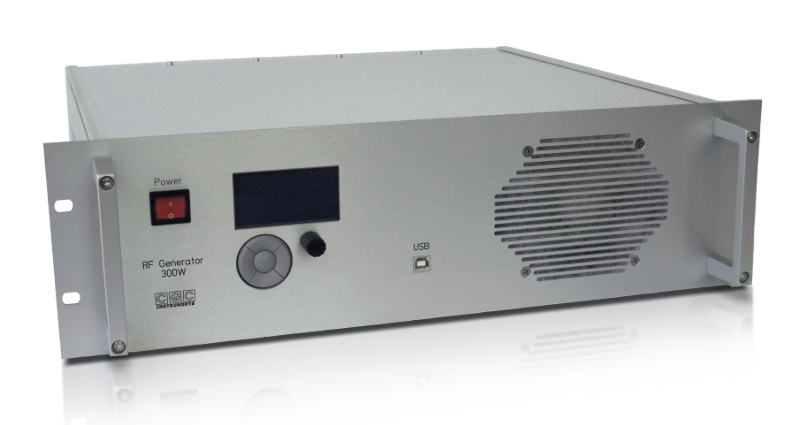 These RF generators were designed to drive quadrupole mass analyzers (QMS). The frequency of the output voltage is fixed according to the customer's specifications.
The
controller module
of the device controls and monitors the generator and its power supply. Two variable capacitors are available for manual fine-tuning of the frequency and the symmetry.
The frequency can be adjusted manually or automatically. With manual frequency tuning, the device keeps the set frequency constant. The RF amplitude and the DC offset for a specific mass therefore stay constant.
With automatic frequency tuning, the device finds the resonance frequency and automatically adjusts the operating frequency in case of fluctuations caused by external influences such as temperature changes. The device also measures the current operating frequency. Based on this, the RF amplitude and the DC offset can be determined and adjusted.
Technical Data
Radio frequency generator with digital control
Output frequency: according to customer specifications

Available frequencies: 0,1–10 MHz
Calibrated for the quadrupole system

Max. output power: ca. 300 W (adjustable via the supply voltage of the power stage)
RF outputs: 2 SHV sockets
Bias inputs: 2 MHV sockets
Control of the RF amplitude: digital with 12 bits
RF amplitude measurement: 2 channels with 16 bits each
Monitoring:

Power supply of the RF power stage
Peak voltage of the RF power stage
Temperature

Fine-tuning of the output frequency and the symmetry: 2 rotary capacitors on the rear panel
Remote control: externally via USB/Ethernet or manually via rotary encoder
LCD with 128×68 pixels, keypad, and rotary encoder
Interlock loop: BNC socket on the rear panel
Metallic 19" case, width: 84 HP (428 mm), height: 3 U (132.5 mm), depth: 400 mm
Active cooling with fans on the front and rear panels
Example Configurations
RFG300-3M-DLU: Output frequency 3 MHz
Download
Modules
Further user manuals, software, and firmware can be downloaded here:
RFG-300W-CTRL
Utilities
Further software and drivers can be downloaded here:
Serial Windows Utilities
Information on how to open the various file formats can be found here.
Additional Information
Components
Controller module for radio frequency generators for quadrupole analyzers
Shipment Contents
High-voltage bipolar power supply RFG300-DLU
Line cord (universal IEC mains lead, length 1.8 m)
19" rack mounting hardware (set of 4 screws, caged nuts, and washers)
Control and diagnostic software (see above)
User manuals (see above)
Accessories
Output cable

Customer-specific output cable with an Amphenol connector MS3102R14S-6S
BNC, SHV, MHV, and combinations (BNC cable for the interlock connection)
USB cable, A plug to B plug, various lengths

Interface card

USB 2.0 interface card

Ethernet

LAN cable
Ethernet switch
(Not part of the shipment, please order separately)