RFG50
Radio Frequency Generators RFG50
Fully Customized Radio Frequency Generators (50 W, up to 10 MHz)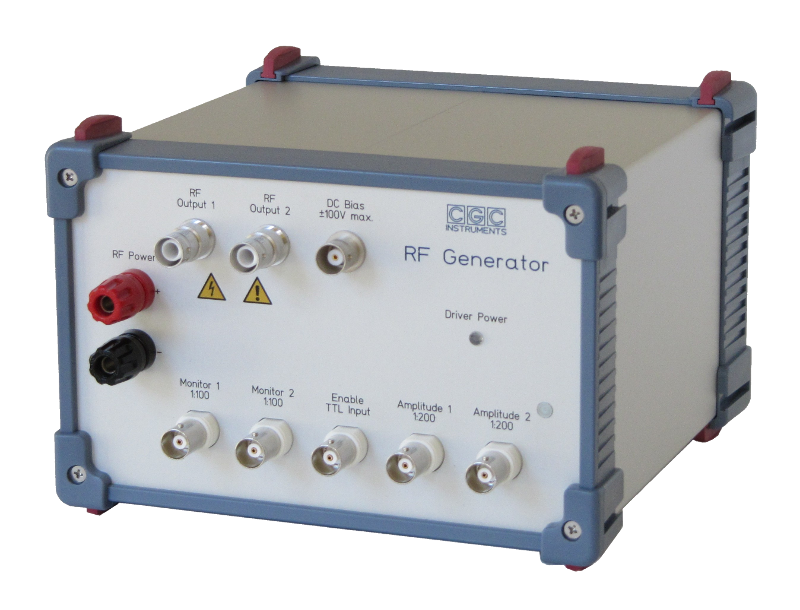 The radio frequency generators RFG50 are manufactured according to the customer's specifications. Each device is individually calibrated for the capacitance of the load and the cables, the attainable amplitude varies accordingly. The mechanical design and the electrical wiring are adjusted to the specific requirements as well.
The frequency of the output voltage is fixed according to the customer's specifications. The amplitude of the output voltage is controlled by an external DC supply.
These devices are the third generation of our RF generators, a further development of the original design published in
Rev. Sci. Instrum.
(see below)
. The generators are controlled by an FPGA and can be equipped with a precise amplitude measurement (option A) or a remote control (option R) enabling detailed monitoring of the operating parameters.
A special interface (Device-Link) can be used to connect the generator to an adjustable power supply unit or an ion detector to synchronize them in mass-selective systems.
Options
If desired, we will calculate the operating parameters required for your trap or ion guide. Simply
contact us
with the necessary details — your multipole type and dimensions, the mass range of the ions or particles, as well as their transverse kinetic temperature / energy.
Output Values
Frequency range: 0.1–10 MHz
Output power: up to 50 W
Output voltage: 500 V typ.
DC Bias Options
Standard:

DC bias input specified for voltages up to 50 V
Connector: BNC

Option B500:

DC bias input specified for voltages up to 500 V
Connector: SHV

Option B1k:

DC bias input specified for voltages up to 1 kV
Connector: SHV

Options 2B…:

Two DC bias inputs
Specifications equivalent to single DC bias inputs (see above):
Option 2B: up to 50 V
Option 2B500: up to 500 V
Option 2B1k: up to 1 kV
Case Options
Model RFG50T:

Bench-top case "Eurotainer"
Dimensions: 114.7 × 175.7 × 160 mm³

Model RFG50CF:

Vacuum flange mounting: DN100CF
Direct wiring without cables
Add-On Options
Option A (amplitude measurement)

Precision rectifier with an accuracy of < 0.1%
Sensitivity: 1 VDC / 100 VRF or according to customer's specifications
Output connectors: two BNC sockets on the front panel

Option R (remote control)

Monitoring: amplitude and frequency of the output voltages, supply voltage of the output stage, temperature and other device diagnostics
Control: output enable, control of the Device-Link
Connectors: Ethernet, USB and Device-Link on the rear panel
This option requires option A.
Download
Paper
Information on how to open the various file formats can be found here.
Additional Information
Accessories
BNC, SHV, MHV, and combinations
USB, I²C, LPT
(Not part of the shipment, please order separately)