DAFG-PS4-24V
Quadruple Power Switch DAFG-PS4-24V
Digitally Controlled Quadruple Power Switch With Waveform Generator for Driving Electropneumatic Actuators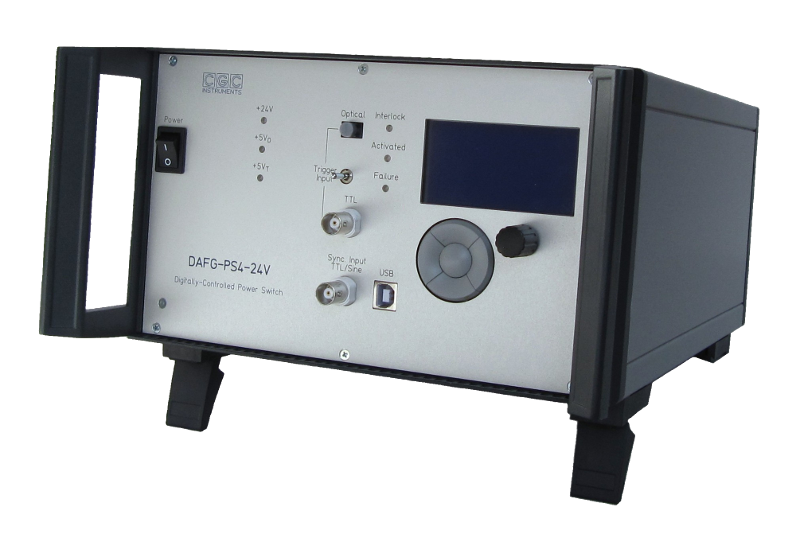 This power switch is a combination of four high-current power switches with a dedicated power supply unit and a programmable, digitally controlled waveform generator.

The device is able to provide a continuous output current of about 2 A and peak currents of 8 A to loads like electropneumatic actuators that require high inrush currents for their operation. The four outputs provide rectangular voltages with a fixed amplitude of 24 V.

The signal output can be synchronized with external instruments via the trigger and synchronization inputs. The trigger signal may be electrical with TTL levels or optical according to the Versatile Link standard.

The device is equipped with an interlock loop that disables the output if it is opened. The power switch is extensively monitored to protect the device and the load from possible damages.

The built-in waveform generator is equipped with a USB data interface for transferring waveform data to or from the device. A remote control utility emulating the human interface on the front panel is available.
#Technical Data
Characteristics
Quadruple power switch providing high peak output current
Programmable waveform generator with USB interface
10" case, bench top or rack mount
Power Switch
Output connector: Amphenol Eco-Mate RM RT0014-12SNH (panel receptacle with 12 female contacts)
Output voltage: 24 V (4 independent outputs)
Output current: > 2 A continuous (all channels together), 8 A pulsed typ.
Security
Interlock loop:

Connector ODU MEDI-SNAP G51M07-P02LPH0-0070
Two pins at the output connector
(Short circuit on both connectors enables the power switch)

Overcurrent protection: output current limiter (2.2 A typ.)
Overtemperature protection:

Temperature sensor at the heatsink
(Shutdown and restart temperatures freely programmable)
Trigger
Input switchable between TTL and optical
TTL input:

Connector: insulated BNC socket
Levels: Low < 0.8 V, High > 2.0 V
Input impedance: 51 kΩ (internal pull-down)
Precision: better than 50 ns

Optical input:

Connector according to the Versatile Link standard
Precision: better than 200 ns
Synchronization
TTL input:

Connector: insulated BNC socket
Coupling: AC
Level: > 250 mVpp, 5 Vpp maximum
Input impedance: 50 Ω or 51 kΩ (internal pull-down)
Allowed frequency range: 5–20 MHz
Monitoring
LEDs: Power (+24V, +5VD, and +5VT), Switch Activated, Interlock, Failure
Supply voltage monitoring
Temperature monitoring
Switch monitoring
Waveform Generator
Resolution: 16 bit
Data rate: 254 S/s – 16.7 MS/s
Total memory size: 512 KW (= 512 KWords = 1 MB)
Memory space for waveform data: 508 KS (= 520192 samples)
Waveform size: variable from 2 S to 64 KS (= 65536 samples)
Maximum number of stored waveforms: 100
Maximum number of stored measurements: 100
Trigger: manual / external
Trigger delay: 0 ms – 6.5 s, adjustable with a precision of 0.1 ms
Smart triggering for selecting the measurement for the next output
External synchronization
Human Interface
Monochrome LCD display 128×64 pixels; pixel size: 0.5 mm, pixel color: yellow, background: blue, background illumination: white LED
Keypad: 5 keys: 4× direction + 1× "enter"
Encoder: 24 positions per revolution, integrated press button
Press button for amplifier activation
Optional external shutdown button via the interlock loop
Digital Interface
USB interface according to USB 2.0 standard

Connector: USB plug type B
Data transfer rate: up to 12 MBit/s (Full Speed)
Effective data transfer rate: >100 kBit/s
Power Supply
Rated voltage: 115/230 V ±10%, 50/60 Hz
Power consumption:

Standby (switch deactivated): <10 VA, 6 VA typ.
Maximum: 90 VA

Main fuses: 115 V: T 1.25 A, 230 V: T 0.63 A (slow acting, size ø5×20 mm)
Mains connection: IEC inlet with EMC filter and integrated fuse holder
General
3 U 10" bench-top case:

Height: 133 mm, width: 236 mm, depth: 315 mm
Total depth including handles and connectors: 367 mm
Total width including handles: 249 mm
Total height including case feet: 148 mm

Forced cooling:

80 mm fan on the rear panel, temperature-dependent switching
Monitored fan operation, warning in the event of fan failures

Weight: 6.2 kg
Cleaning: use only a damp cloth, avoid use of organic solvents
#Download
User Manual
Other Documents
Modules
#Additional Information
Components
Programmable digital waveform generator module
Shipment Contents
Power switch DAFG-PS4-24V in 10" case
Line cord (universal IEC mains lead, length 1.8 m)
Output cable with connector RT061412PNH-K, maximum length about 10 m
Control and diagnostic software (see above)
User manual (see above)
Accessories
BNC, SHV, MHV, and combinations
USB cable, A plug to B plug, various lengths

Interface card

USB 2.0 interface card

Output cable(s)

1 or 2 Amphenol Eco-Mate RM plugs RT061412PNH-K, length up to about 10 m

Filter unit

High frequency filter for the output cable
(Not part of the shipment, please order separately)