HV-PA500-1
Power Amplifier HV-PA500-1
High-Voltage Power Amplifier for Driving Piezoelectric Actuators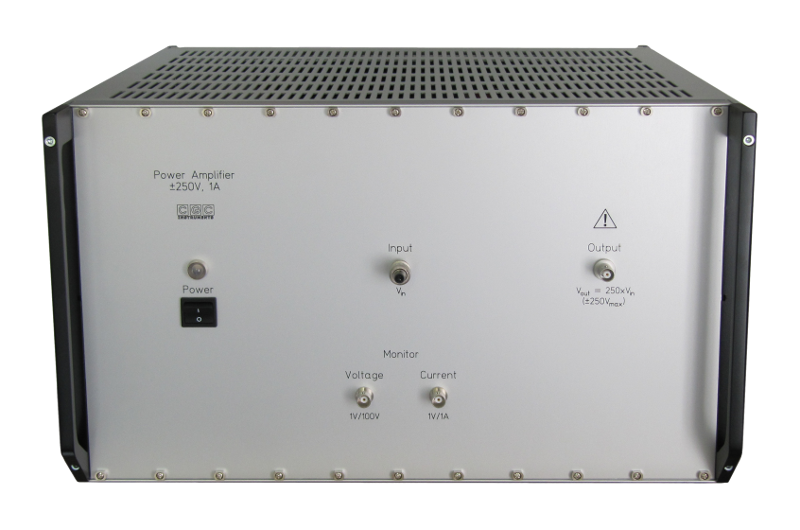 This device contains one fast high-voltage power amplifier.

The amplifier is able to provide an output power of about 500 VA to loads with a significant capacitance. The output voltage is bipolar and ranges from 0 to ±250 V. The output current can continuously reach values of up to 1 A.

Optional monitor outputs allow for controlling the output signal. Phase-accurate voltage or current scanning is available.

The amplifier and its power supplies are linearly operating circuits. The emission level of electromagnetic radiation is therefore very low.
#Technical Data
Characteristics
High-voltage power amplifier
High output power, high bandwidth
DC accuracy, low noise
Short-circuit proof, overcurrent and overtemperature protection
19" case
Input
Connector: 50 Ω BNC socket
Input voltage: ±1 V
Permissible overload: ±10 V
Input impedance: ca. 1 MΩ
Output
Connector: 50 Ω MHV socket
Output voltage: ±250 V
Output current: ±1 A continuous, peak: ±2 A typ.
Short-circuit proof: short-circuit duration indefinite
Bandwidth with a capacitive load of 0–10 nF (-3dB): DC – >300 kHz
Power bandwidth (sinusoidal output 250 Vp): >100 kHz without load, 90 kHz typ. with a capacitive load of 10 nF
Output offset voltage: 5 mV typ., < 10 mV
Noise voltage and output ripple (DC–10 MHz): 50 mVeff typ., < 100 mVpp
Cooling
Passive cooling: Extruded heatsink on the rear panel
Forced cooling: four fans (120×120×38 mm3, max. 3400 rpm)
Fan control: proportional controller
Temperature monitoring: shutdown threshold ca. 60°C, hysteresis: ca. 10°C
Power Supply
Nominal voltage: 230 V or 115 V, ±10% (changeable by a voltage selection switch)
Nominal frequency: 50/60 Hz
Mains connection: IEC inlet with EMC filter and integrated fuse holder
Inrush current: <2 A at 230 V, <4 A at 115 V (limited by an inrush current limiter)
Power consumption: 800 VA at full load, 100 VA without load
Fuse: T 5 A at 230 V, T 8 A at 115 V
General
6 U 19" bench-top case:

Height: 266 mm, width: 448 mm, depth: 380 mm
Total depth including heatsink, fans, and handles: 550 mm
Total height including case feet: 280 mm

Heatsink: black anodized extruded aluminum profile on the rear panel
Forced cooling:

Four 120 mm fans on the heatsink
Temperature-dependent regulation of the fan speed
Monitored fan operation, warning in the event of fan failures

Weight: 28 kg
Cleaning: only use a damp cloth, avoid use of organic solvents
#Download
User Manual
Information on how to open the various file formats can be found here.
#Additional Information
Shipment Contents
High-voltage power amplifier HV-PA500-1 in a 19" case
Line cord (universal IEC mains lead, length 1.8 m)
User manual (see above)
Accessories
BNC, SHV, MHV, and combinations
(Not part of the shipment, please order separately)