HV-PA550-2D
Power Amplifier HV-PA550-2D
High-Voltage Power Amplifier With Programmable Digital Waveform Generator for Driving Piezoelectric Actuators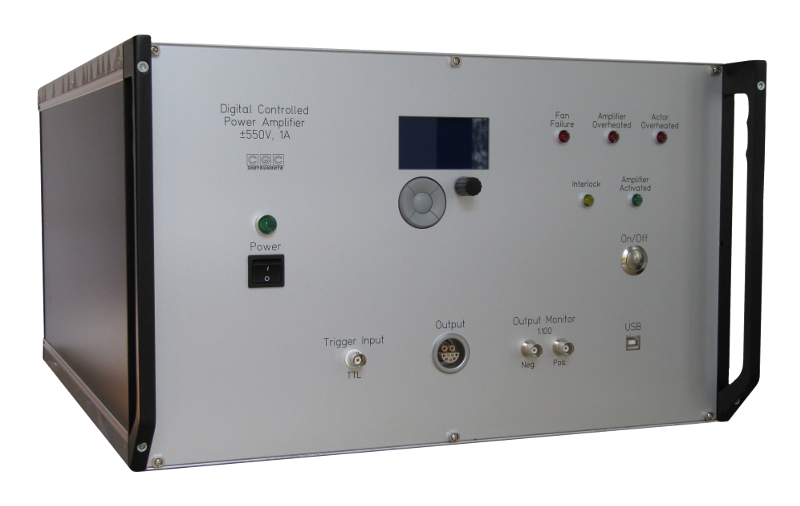 This device is a combination of a high-voltage power amplifier and a programmable digitally controlled waveform generator.

The amplifier is able to provide an output power of about 1 kVA to loads with a significant capacitance. The output terminals produce voltages which are symmetrical with respect to ground. The total output voltage is almost unipolar and ranges from 0 to 1.1 kV.

The waveform generator can produce preferably harmonic signals or a combination of them in a frequency range of up to several kHz. The signal output can be synchronized with external devices via the trigger input.

The device is equipped with an interlock loop that disables and shorts the output if it is opened. The device also contains circuitry that scans the temperature measured by an external Pt1000 sensor.

The waveform generator is equipped with a USB data interface that allows the user to transfer waveform data to or from the device. To check the output signal of the amplifier, two monitor outputs are available.

The amplifier and its power supplies are linearly operating circuits. The emission level of electromagnetic radiation is therefore very low.
#Technical Data
Characteristics
High-voltage amplifier for heavy capacitive loads
Programmable waveform generator with USB interface
19" case
Amplifier
Output connector: LEMO ERA.4S.737.CLL (panel socket with 2 high-voltage pins)
Output voltage: 0–1100 V (2 symmetrical outputs with 0 – +550 V and 0 – -550 V)
Switchable offset: 550 V (±275 V)
Output current: 1 A continuous, 2 A typ. pulsed
Signal bandwidth: DC–5 kHz
Power bandwidth: 1 kHz without load; with load, limited by the output current (about 30 Hz with a load of 10 µF)
Output noise: 30 mVpp without load, 10 mVpp with a load of 10 µF
Security
Interlock loop: two pins at the output connector, short circuit enables the amplifier
Overcurrent protection: output current limiter
Overtemperature protection:

Temperature sensor at the heatsink
Temperature sensor PT1000 at the actor
(Shutdown and restart temperatures freely programmable)
Monitoring
Monitor outputs: two 50 Ω BNC sockets, attenuation: 1:100, internal impedance: 10 kΩ parallel with 100 pF
LEDs: Power, Amplifier Activated, Interlock, Fan Failure, Amplifier Overheated, Actor Overheated
Supply voltage monitoring
Waveform Generator
Resolution: 16 bit
Data rate: 254 S/s – 16.7 MS/s
Total memory size: 512 KW (= 512 KWords = 1 MB)
Memory space for waveform data: 508 KS (= 520192 samples)
Waveform size: variable from 2 S to 64 KS (= 65536 samples)
Maximum number of stored waveforms: 100
Maximum number of stored measurements: 100
Trigger: manual/external
Trigger input: 50 Ω BNC socket, level: TTL/CMOS/LV-CMOS, galvanically isolated from the device to eliminate ground loops
Human Interface
Monochrome LCD display 128×64 pixels, pixel size: 0.5 mm, pixel color: yellow, background: blue, background illumination: white LED
Keypad: 5 keys: 4× direction + 1× "enter"
Encoder: 24 positions per revolution, integrated press button
Press button for amplifier activation
Optional external shutdown button via the interlock loop
Digital Interface
USB interface according to USB 2.0 standard

Connector: USB plug type B
Data transfer rate: up to 12 MBit/s (Full Speed)
Effective data transfer rate: >100 kBit/s
Power Supply
Rated voltage: 230 V ±10%, 50 Hz
Inrush current: limited to 8 A
Power consumption:

Standby (amplifier deactivated): 30 VA
Amplifier activated but without signal: 150 VA
Maximum: 1 kVA
Peak: 1.6 kVA

Main fuse: T 8 A (slow acting), size ø5×20 mm
Mains connection: IEC inlet with EMC filter and integrated fuse holder
General
6 U 19" bench-top case:

Height: 266 mm, width: 448 mm, depth: 480 mm
Total depth including heatsink, fans, and handles: 650 mm
Total height including case feet: 280 mm

Heatsink: black anodized extruded aluminum profile on the rear panel
Forced cooling:

Four 120 mm fans on the heatsink
Temperature-dependent regulation of the fan speed
Monitored fan operation, warning in the event of fan failures

Weight: about 41 kg
Cleaning: use only a damp cloth, avoid use of organic solvents
#Download
User Manual
Modules
#Additional Information
Components
Programmable digital waveform generator module
Shipment Contents
High-voltage amplifier HV-PA550-2D in 19" case
Line cord (universal IEC mains lead, length 1.8 m)
Control and diagnostic software (see above)
User manual (see above)
Accessories
Interface card

USB 2.0 interface card

Output cable(s)

1 or 2 LEMO plugs FFB.4S.737, length up to about 10 m

Filter unit

High frequency filter for the output cable
(Not part of the shipment, please order separately)