RMS2-2
HV Monitor RMS2-2
Module for Measuring Amplitude and Symmetry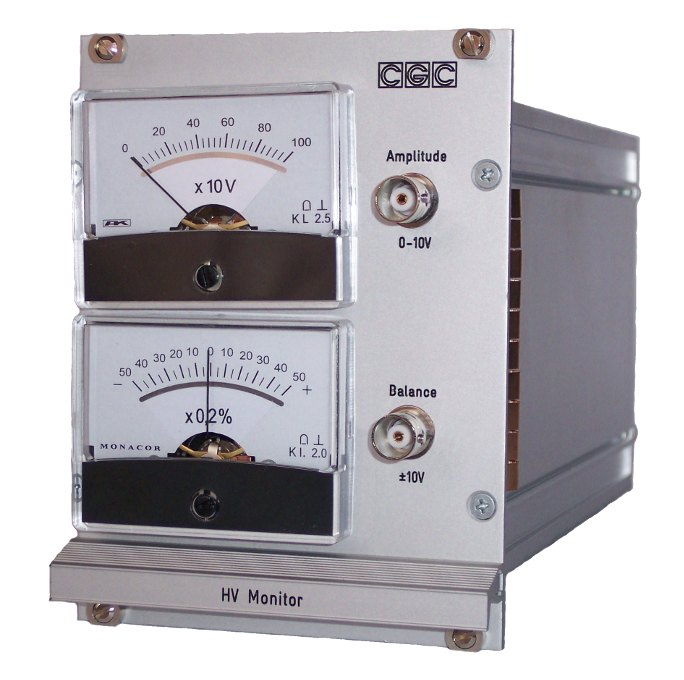 This module contains two identical attenuators and precision rectifiers which measure the amplitude of the output voltages of the
power stage
. The readings are made available via a 10 V port: The output voltage at the BNC socket
Amplitude
equals one percent of the mean value of the amplitudes of both RF output voltages, the output voltage at the BNC socket
Balance
equals one percent of the difference between both amplitudes.
Additionally, two moving-coil instruments are available on the front panel of the module: The top instrument displays the amplitude of the output voltage in Volts, the bottom one shows the relative deviation of the amplitudes, i.e. half the quotient of the output voltages at the BNC sockets
Balance
and
Amplitude
.
Technical Data
Input
Amplitude of the input voltages: max. 1000 V (max. 700 V for guaranteed linearity of the measurement)
Capacitances of the RF inputs: 6 pF each to ground
Display
Display: two moving-coil instruments (Precision: 2%)
Precision of the symmetry display (Balance): < 3% (1% typ.)
Precision of the zero display: 0.3% typ.
Output
Signal outputs: two 50 Ohm BNC sockets
Output level: 1% of the mean of, or 1% of the difference between the amplitudes of both RF output voltages
Output voltage: nominal ±10 V, or 0 – +10 V (min. ±12 V)
Output current: max. ±10 mA
Short-circuit resistance: duration of short circuit not limited
Precision of the attenuators: < 1% (100 kHz – 3 MHz)
Bandwidth of the rectifiers: 80 Hz – 40 MHz (-3 dB) (at maximum input voltage)
Low-frequency precision of the output voltages: < 0.8% (0.1% typ.)
Output offset voltage: < 50 µV
Rectified noise voltage at the output: < 2 mV
General
Metallic 19" rack cassette
Dimensions:

Width: 19 TE
Height: 3 HE
Insertion depth: 167 mm

Color:

Front panel: naturally anodized
Case: transparently passivated

Weight: 0.9 kg
Scheme of the Module