RF Power Stages
Exchangeable Power Stages for the Modular RF Generator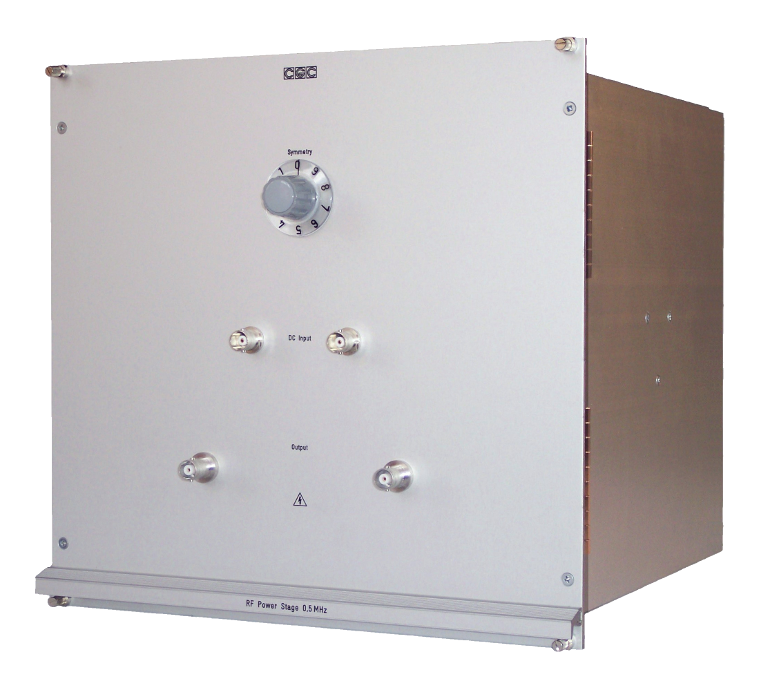 The RF power stage is a power oscillator with a variable output voltage. The operation frequency is given by a built-in resonant circuit. The symmetry of the output voltage can be adjusted by a rotary capacitor at the front panel.
The RF output voltages of the module can be independently biased by different DC voltages. The required voltages can be connected to two BNC sockets at the front panel. To control the DC bias voltages, an external power supply is required. For this purpose, our
signal amplifiers
were developed.
The control electronics of the power stage is supplied by a special
power supply unit
. The RF amplitude is controlled by regulating the supply voltage of the output transformers of the power stage. This voltage is provided by the module for controlling the RF amplitude (
HV Control
).
General Technical Data for all Power Stages
Characteristics
Exchangeable power stages for the modular radio frequency generator
Adjustment of the symmetry of the output voltages
Control of the DC bias voltages of the output signal
Input
DC inputs: 50 Ohm BNC sockets
DC bias voltage (DC Input): ±200 V max.
Capacitance of the DC inputs: 720 nF typ.
Surge protection: 200 V Transil diodes
Output
RF outputs: 50 Ohm MHV (H4) sockets
Output frequencies: 0.5 MHz – 2.0 MHz
Amplitude of the output signal (each output against ground): 0–500 V typ.
Required capacitive load per output against ground: 130 pF typ.
(consisting of 60 pF for the capacitance of the load incl. connector and 70 pF for the connection cable)
Regulation of the symmetry: ±20 pF
General
Metallic 19" plug-in unit
Dimensions:

Width: 54 HP
Height: 6 U
Insertion depth: 221 mm

Color:

Front panel: naturally anodized
Case: transparently passivated
Block Diagram of the RF Power Stage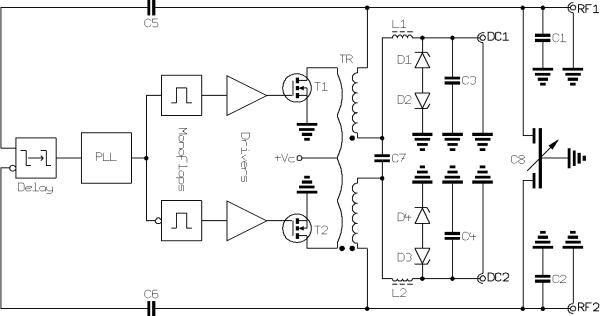 See also
Technical data specific to each power stage: see

sidebar menu

menu at the top of the page The menu shows all currently available power stages. If you are interested in a power stage for different frequencies and amplitudes, do not hesitate to contact us.