UDB-A10D12-1+4
UDB-A10D12-1+4
Digital-to-Analog Converter, 12 Bit, 1 Channel + Analog-to-Digital Converter, 10 Bit, 4 Channels, Optoisolated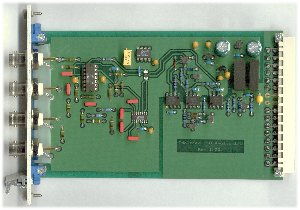 Card for controlling devices on high potentials.
The measuring card consists of a digital-to-analog converter which generates a voltage programmable by the control computer in a range of 0 to +10 V. The card also contains four analog-to-digital converters.
Three channels are intended for measuring the voltage, one channel measures the current: One channel monitors the voltage generated by the digital-to-analog converter, the other two measure voltages on the BNC input sockets. The voltage ranges are 0 to +10 V and 0 to -250 V. The fourth channel measures current in a range of 0 to +25 mA.
The inputs and outputs of the measuring card are galvanically isolated from the rest of the data acquisition system by optoisolators.
Upon
request
, the measuring card can be configured for other voltage and current ranges.