HV-AMP200-4
Amplifier HV-AMP200-4
Variable Amplifier 4×200 V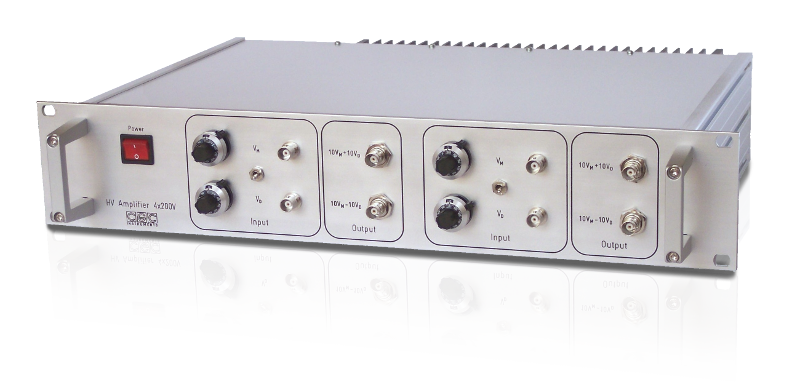 This device consists of two identical independent pairs of precision high-voltage amplifiers. Each pair produces at its two outputs a 10-times amplified sum and difference of the two input voltages. The amplifiers are low-noise and DC accurate. They can drive high capacitive loads without stability problems.
The input voltages can be controlled either manually by precision potentiometers or by external signals. The switching between the manual and external control takes place for each pair of amplifiers independently via a toggle switch.
Typical Applications: Generation of DC offset voltages for quadrupole mass analyzers (e.g. in connection with the
modular radio frequency generator
), control of electrostatic lenses and deflection systems
Technical Data
Characteristics
Four precise high-voltage amplifiers
Manual or external control of the output voltages
DC accuracy
Low noise
Short-circuit proof
19" case
Input
External inputs: four 50 Ohm BNC sockets (VM and VD)
Input voltage: ±10 V max.
Input impedance: 47 kOhm
Manual control: four precision 10-turn potentiometers
Output
Signal outputs: four 50 Ohm BNC sockets
Function:

VOut1 = 10VM + 10VD
VOut2 = 10VM - 10VD

Output voltage: ±200 V max. (> ±190 V)
Output current: ±50 mA max.
Short-circuit proof: short-circuit duration indefinite
Bandwidth (-3 dB): DC–10 kHz, internally adjustable
Power bandwidth (sinusoidal output 100 Vp): 300 Hz typ., 80 Hz typ. for a capacitive load of 1 µF
Output offset voltage: < 100 µV
Noise (DC–100 kHz): 120 µVeff typ., < 1.5 mVpp
Accuracy of the amplification at low frequencies: < 0.5% (0.1% typ.)
Temperature coefficient of the amplification at low frequencies: < 100 ppm/K (25 ppm/K typ.)
Power Supply
Rated voltage: 230 V or 115 V ±10%
Rated frequency: 50/60 Hz
Power consumption: < 60 VA at full load, < 10 VA without load
General
2 U 19" plug-in unit for mounting in a 19" cabinet
Dimensions:

Height: 88 mm, width: 483 mm
Depth with heat sink without handles: 325 mm

Cooling: passive heat sink on the rear panel
Weight: 6.4 kg
Download
User Manual
Older versions
Information on how to open the various file formats can be found here.
Additional Information
Shipment Contents
Variable Power Supply / Power Amplifier HV-AMP200-4
Line cord (universal IEC mains lead, length 1.8 m)
Material for mounting in a 19" cabinet
User manual (see above)
Accessories
BNC, SHV, MHV, and combinations
(Not part of the shipment, please order separately)