HV-AMP200-4DS
Amplifier With Current Sensor HV-AMP200-4DS
High-Voltage Bipolar Power Supply / Amplifier with a High-Sensitivity Current Sensor, 4 Channels, ±200 V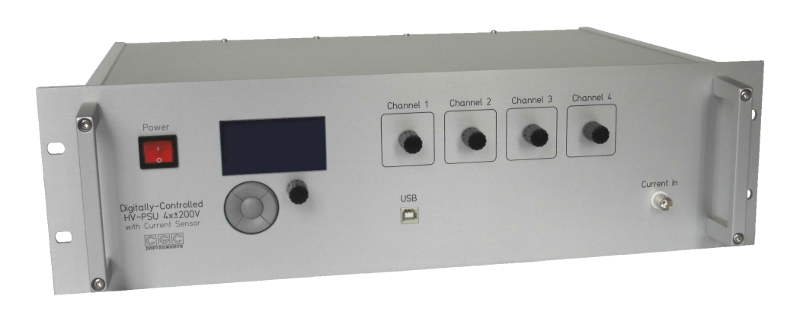 This high-voltage power supply is a combination of four high-voltage amplifiers and four digital-to-analog converters driven by a controller module. The device is equipped with several analog-to-digital converters for monitoring the output voltages, the power supplies, and the operation temperature. Additionally, a highly sensitive current sensor with a large dynamic range is available for monitoring external currents. The device is fit into a metallic 19" plug-in box.
The
controller module
of the device controls and monitors the amplifiers and their power supplies.
The typical output load of the device is an electrode system acting as an electron or ion lens. The output voltages are adjustable in the range of ±200 V. The output current can be as high as 20 mA, which is large enough to even drive electrodes which collect high electron or ion currents.
The output channels can be grouped into two pairs to provide a differential control. In this case, the device allows to control the mean voltage of the particular output pair and the voltage difference between the outputs. This is useful, for instance, if the connectedelectrodes form a deflection electrode system. In this case, the mean voltage determines the focusing properties and the differential voltage controls the deflection.
The integrated current sensor is aimed to monitor ion or electron current on a dedicated electrode. It can be a mesh placed in the particle beam or a Faraday cup located in place of a target. The current sensor can measure currents ranging from less than 1 pA to about 100 µA.
Typical Applications: Driving electron or ion optics, generation of DC offset voltages for quadrupole mass analyzers (e.g. in connection with the
modular radio frequency generator
), monitoring ion or electron beams
Technical Data
Characteristics
Four-channel high-voltage power supply unit / amplifier for heavy capacitive loads
DC accuracy, low temperature coefficient of the output voltage
Digital control and monitoring of the output voltages
Monitoring of amplifier supply voltage and heatsink temperature
High-sensitivity current sensor with large dynamical range
Supply voltage supervision
Interlock loop
Microcontroller-based controller with USB and LAN data interface
User-friendly graphical interface
Non-volatile memory (FRAM) to permanently store device settings
19" case
Output Amplifiers
Four channels
Output voltage: ±200 V
Output current: > 20 mA, 23 mA typ.
Signal bandwidth (-3 dB): DC–5 kHz typ.
Power bandwidth: limited by the output current, > 1 kHz without any load
Slew rate: > 8 V/µs without load
Output noise: 2.5 mVp-p typ. (DC to 500 kHz), 200 µVp-p typ. (DC to 10 Hz)
Output accuracy: < 0.2% (0.1% typ.)
Temperature coefficient of the output voltage: < 50 ppm/K (25 ppm/K typ.)
Current Sensor
One channel
Three measurement ranges: 10 nA, 1 µA, 100 µA
Input capacitance: 1 nF
Input offset voltage: 100 µV typ.
Resolution: 16 bit
Sampling rate: 2 S/s
Analog signal bandwidth (-3 dB): DC–10 Hz typ.
Accuracy: < 0.2% (0.1% typ.)
Temperature coefficient of the measurement circuit: < 100 ppm/K
Measurement noise:

30 fARMS, 100 fApp (range 10 nA, 0 nA input)
400 fARMS, 800 fApp (range 10 nA, 5 nA input)
4 pARMS, 8 pApp (range 1 µA, 0 nA input)
17 pARMS, 30 pApp (range 1 µA, 500 nA input)
500 pARMS, 1.5 nApp (range 100 µA)
Security
Interlock loop: BNC socket, short circuit enables the amplifier
Overcurrent protection: output current limiter
Overtemperature protection: temperature sensor at the heatsink, shutdown at 50 °C
Monitoring
Output monitoring:

Four 16-bit analog-to-digital converters
Sampling rate: 2 S/s
Accuracy: < 0.2% (0.1% typ.)
Overall precision: < 100 mV
Temperature coefficient of the monitoring: < 50 ppm/K (25 ppm/K typ.)

Supply voltages
Temperature at the heatsink and the CPU
Interlock loop
Human Interface
Monochrome LCD display 128×64 pixels, pixel size: 0.5 mm, pixel color: yellow, background: blue, background illumination: white LED
Keypad: 5 keys: 4× direction + 1× "enter"
Rotary encoders:

24 positions per revolution, integrated press button
One encoder located beneath the LCD for general control
4 encoders for direct control of the output voltages

Optional external shutdown button via the interlock loop
Power Supply
Rated voltage: 115/230 V ±10%, 50/60 Hz
Power consumption:

Standby (outputs without load): 15 VA
Maximum (outputs fully loaded): 40 VA

Main fuse: T 2.5 A (115 V), T 1.25 A (230 V), size ø5x20 mm, slow acting
Mains connection: IEC inlet with EMC filter and integrated fuse holder
Connectors
Data link:

USB receptacle series B, location: front panel
LAN receptacle RJ-45, location: rear panel

Output: Amphenol MS3102R14S-6S, high-voltage panel receptacle with 6 female sockets, location: rear panel
Current sensor: isolated 50 Ohm BNC socket, location: front panel
Interlock loop: 50 Ohm BNC socket, location: rear panel
Mains input: IEC inlet, location: rear panel
General
3 U 19" case:

Height: 130.5 mm, width: 428 mm, depth: 280 mm
Total height of the front panel: 132.6 mm
Total width of the front panel: 482.6 mm
Plug-in depth incl. heatsink: 322 mm
Total depth with heatsink and handles: 365 mm
Cover and bottom panels, side walls, rear panel: passivated
Front panel: transparently anodized

Heatsink:

Black anodized extruded aluminum profile on the rear panel
Height: 75 mm, width: 300 mm, depth: 40 mm

Operating temperature range: +10 – +40 °C
Operating humidity: 20% to 80% non-condensing
Weight: 7.5 kg
Cleaning: only use damp cloth, avoid use of organic solvents
Download
User Manual
Modules
Further user manuals, software, and firmware can be downloaded here:
HV-AMP-CTRL
Utilities
Further software and drivers can be downloaded here:
Serial Windows Utilities
Information on how to open the various file formats can be found here.
Additional Information
Components
Controller module for high-voltage bipolar power supplies / amplifiers with up to 5 channels and an optional current monitor
Shipment Contents
High-voltage bipolar power supply HV-AMP200-4DS
Line cord (universal IEC mains lead, length 1.8 m)
19" rack mounting hardware (set of 4 screws, cage nuts, and washers)
Control and diagnostic software (see above)
User manual (see above)
Accessories
Output cable

Customer-specific output cable with an Amphenol connector MS3102R14S-6S

Interface card

USB 2.0 interface card

Ethernet

LAN cable
Ethernet switch
(Not part of the shipment, please order separately)