HV-AMP200N-1
Amplifier HV-AMP200N-1
Precise Amplifier ±200 V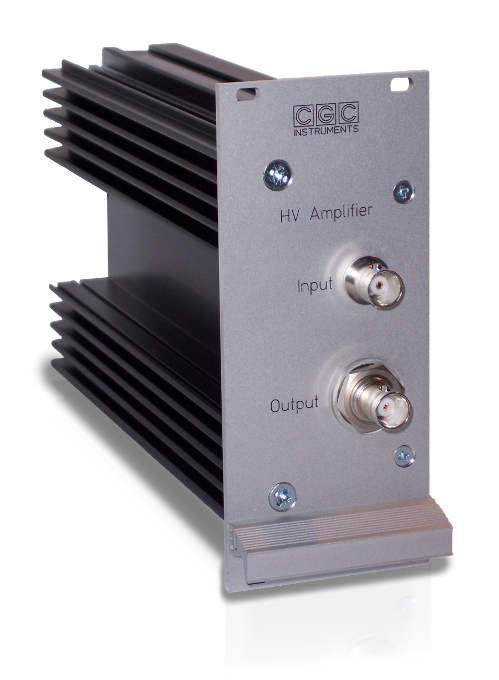 This plug-in module contains one precision high-voltage amplifier. The amplifier outputs a 20× amplification of the input voltage. The amplifier is extremely low-noise and DC accurate. It can drive high capacitive loads without any stability problems.

The DC accuracy and the extremely low noise predestine the module for the amplification of output signals of precise D/A converters. The high signal-to-noise ratio of about 125 dB can only be fully utilized with converters with a resolution of more than 20 bit.

Typical Applications: Control of piezoelectric elements for nano-positioning, control of electrostatic lenses and deflection systems
#Technical Data
Characteristics
Precise high-voltage amplifier
DC accuracy
Extremely low noise
Short-circuit proof
19" plug-in unit
Input
Connector: 50 Ω BNC socket
Input voltage: ±10 V max.
Input impedance: 1 MΩ parallel to 40 pF
Output
Connector: 50 Ω BNC socket
Amplification: –20
Output voltage: > ±200 V
Output current: ±200 mA max.
Short-circuit proof: max. short-circuit duration 5 s
Bandwidth (-3 dB): DC–10 kHz, internally adjusted
Power bandwidth (sinusoidal output: 400 Vpp): 650 Hz typ., 130 Hz typ. for a capacitive load of 1 µF
Output offset voltage: < 100 µV
Noise (DC–500 kHz): 30 µVeff, 250 µVpp typ., < 300 µVpp
Accuracy of the amplification at low frequencies: < 0.2% (0.1% typ.)
Temperature coefficient of the amplification at low frequencies: < 50 ppm/K (25 ppm/K typ.)
Power Supply
High voltage: ±215 V, 200 mA max.
Low voltage: ±15 V, 25 mA max.
General
Metallic 19" plug-in unit
Dimensions: width 11 HP, height 3 U, insertion depth 167 mm
Cooling: passive heat sink on the side wall of the plug-in unit
Weight: 0.8 kg
#Download
User Manual
Older versions
Information on how to open the various file formats can be found here.
#Additional Information
Shipment Contents
Power Amplifier HV-AMP200N-1
User manual (see above)
Accessories
Precision open-frame power supplies
BNC, SHV, MHV, and combinations
(Not part of the shipment, please order separately)