HV-AMP400FN-4+400-D
Amplifier With Waveform Generator HV-AMP400FN-4+400-D
Fast High-Voltage Waveform Generator for Driving Quadrupole Traps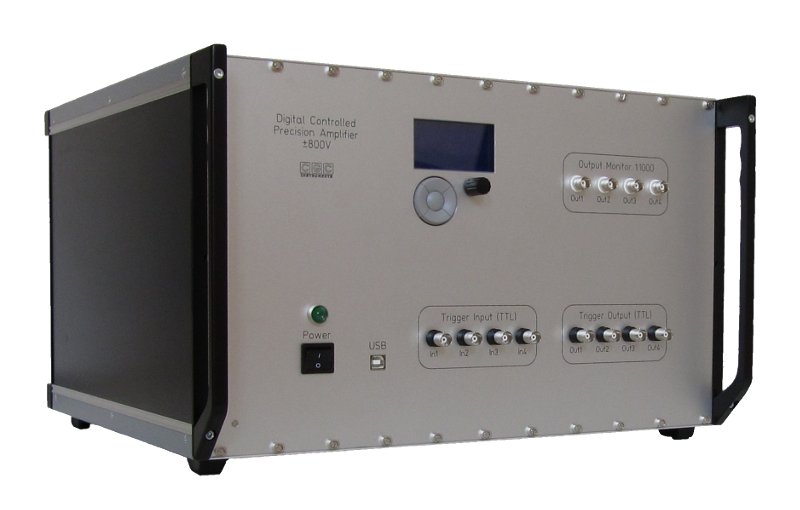 This waveform generator is a combination of four fast high-voltage amplifiers, one high-voltage offset amplifier, and a programmable digitally controlled waveform generator.

The typical output load of the device is a linear quadrupole trap for heavy ions or microparticles. The device produces an arbitrary waveform intended to create the trapping potential. Four output channels provide two pairs of AC voltages, the first pair provides a direct signal and the second pair an inverted one. Thus, the device acts as a 2-phase supply for a quadrupole trap consisting of four electrodes.

The amplitude of the four output channels is freely variable up to 400 V. Since all channels use the same waveform generator, the amplitude is the same on each output.

The offset of the output voltages determines the potential in the trap center and is adjustable in the range of ±400 V.

Trapping can be terminated by introducing an extraction phase. During this phase, the voltages at the four output channels can be set to independently selectable values. The extraction voltages can also be within the ±400 V margin relative to the offset voltage, i.e. the resulting output voltage may reach ±800 V as during the waveform generation.
#Technical Data
Characteristics
Four-channel fast high-voltage amplifier for light capacitive loads
Offset amplifier
Digitally controlled waveform generator
DC accuracy, ultra-low temperature coefficient of the gain
19" case
Output Amplifiers
Four channels
Output voltage: ±400 V
Output current: > 25 mA continuous, > 50 mA pulsed
Signal bandwidth: DC–10 MHz ±10%, DC–100 kHz ±1%
Power bandwidth: limited by the output current, > 100 kHz with a load of 100 pF
Slew rate: about 250 V/µs, depending on the capacitive load
Output noise: 200 mVp-p typ. (DC to 500 MHz), 13 mVp-p typ. (DC to 100 kHz)
Amplification accuracy at low frequencies: < 600 ppm (200 ppm typ.)
Temperature coefficient of the gain at low frequencies: < 10 ppm/K (5 ppm/K typ.)
Offset Amplifier
Output voltage: ±400 V
Output current: > 15 mA continuous
Signal bandwidth: DC–100 Hz (-3 dB)
Slew rate: about 1 V/ms
Security
Interlock loop: BNC socket, short circuit enables the amplifier
Overcurrent protection: output current limiter
Overtemperature protection: temperature sensors at the heatsink (shutdown temperature programmable)
Voltage: supply voltage supervision
Monitoring
Monitor outputs:

Four 50 Ω BNC sockets, output impedance: 50 Ω
Attenuation -1:1000 without load, -1:2000 with load of 50 Ω (signals are inverted with respect to the main outputs)
Accuracy at low frequencies: < 0.2% (0.1% typ.)
Temperature coefficient of the attenuation at low frequencies: < 50 ppm/K (20 ppm/K typ.)
Signal bandwidth: DC–10 MHz ±10%, DC–100 kHz ±1%

LED: Power On, color: green
Supply voltages
Temperature at the heatsink, the chassis plate, and the CPU
Status indicators over the LCD:

Power Supply Activated
Interlock
Fan Failure
Amplifier Overheated
Human Interface
Monochrome LCD display 128×64 pixels, pixel size: 0.5 mm, pixel color: yellow, background: blue, background illumination: white LED
Keypad: 5 keys: 4× direction + 1× "enter"
Rotary encoder: 24 positions per revolution, integrated press button
Press button for amplifier activation
Optional external shutdown button via the interlock loop
Power Supply
Rated voltage: 230 V ±10%, 50 Hz
Inrush current: limited to 3.6 A
Power consumption:

Standby (amplifier deactivated): 37 VA
Amplifier activated but without signal: 110 VA
Maximum (sine 800 Vp-p at 100 kHz): 160 VA
Peak: 1.1 kVA

Main fuse: T 1.25 A (slow acting), size ø5x20 mm
Mains connection: IEC inlet with EMC filter and integrated fuse holder
Connectors
Data link: USB receptacle series B, location: front panel
Monitor outputs, trigger inputs and outputs: four 50 Ω BNC sockets for each, location: front panel
Output: Amphenol MS3102R22-18S high-voltage panel receptacle with 8 female sockets, location: rear panel
Interlock loop: 50 Ω BNC socket, location: rear panel
Mains input: IEC inlet, location: rear panel
General
6 U 19" bench-top case:

Height: 266 mm, width: 448 mm, depth: 380 mm
Total depth with heatsink, fans, and handles: 488 mm
Total height with case feet: 280 mm

Heatsink: black anodized extruded aluminum profile on the rear panel
Forced cooling:

Two 120 mm fans on the heatsink
Temperature-dependent regulation of the fan speed
Monitored fan operation, warning in the event of fan failures

Operating temperature range: +10 – +40 °C
Weight: 23 kg
Cleaning: only use damp cloth, avoid use of organic solvents
#Download
User Manual
Modules
#Additional Information
Components
Programmable digital waveform generator module with extraction and offset control
Shipment Contents
Power waveform generator HV-AMP400FN-4+400-D
Line cord (universal IEC mains lead, length 1.8 m)
Control and diagnostic software (see above)
User manual (see above)
Accessories
Cable

Output cable with an Amphenol connector MS3106F22-18P

Interface card

USB 2.0 interface card
(Not part of the shipment, please order separately)